Description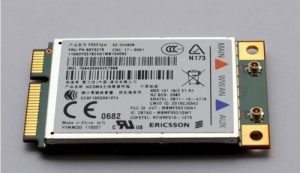 IBM Lenovo Thinkpad F5521gw 60Y3255 3G Wireless Card
Part P/N FRU:60Y3255
Product Compatibility:
– L420, L421, L520
– T420, T420i, T420s, T420si
– T520, T520i
– W520
– X1, X220, X220i, X220 Tablet, X220i Tablet
Product Specifications:
Air Interface       HSPA
Frequency Bands       HSPA 850/1900/2100MHZ
EDGE/GPRS/GSM 850/900/1800/1900 MHz
Presented at the Intel Developer Forum in San Francisco, Ericsson's F5521gw module is the World's first embedded mobile broadband module specifically designed for notebooks and other consumer electronics to support 21Mbps HSPA Evolution networks. It is interoperable with Intel Anti-Theft Technology (Intel AT) version 3.0 to disable a computer remotely if lost or stolen, even if the operating system is not running. Designed to give users the fastest mobile broadband experience available in embedded devices such as notebooks, netbooks and tablets, the F5521gw module is capable of download speeds of up to 21Mbps with upload speeds reaching 5.76Mbps.
Compatible with:
windows 2000/XP/VISTA/OSX/Ubuntu system/windows 7/windows 8/win 10
Package includes:
1 x 3G wireless card
Please choose carefully as refunds are not normally provided where you have simply changed your mind, made a wrong selection or simply found the goods cheaper elsewhere. We recommend you carefully preview any orders before adding them to your shopping cart and proceeding with your order.
Track Page Views With
Auctiva's FREE Counter
Standard warranty Terms & Conditions